Club events can be used for anything but most clubs use them for "galas". Enter all details regarding the event and if your event is a swimming event, assign an event template.

Event templates let you list all the events in a gala and easily add those to an event without having to type them all in again.

The order for creating an event is as follows:
Create the event and add details such as start date etc

Add members who you would like to attend

Email out the members with an event invite

When members confirm, build the team*


* If you select "Open meet" or "Club champs" for the event type, when you email your members, they can choose which events they would like to swim.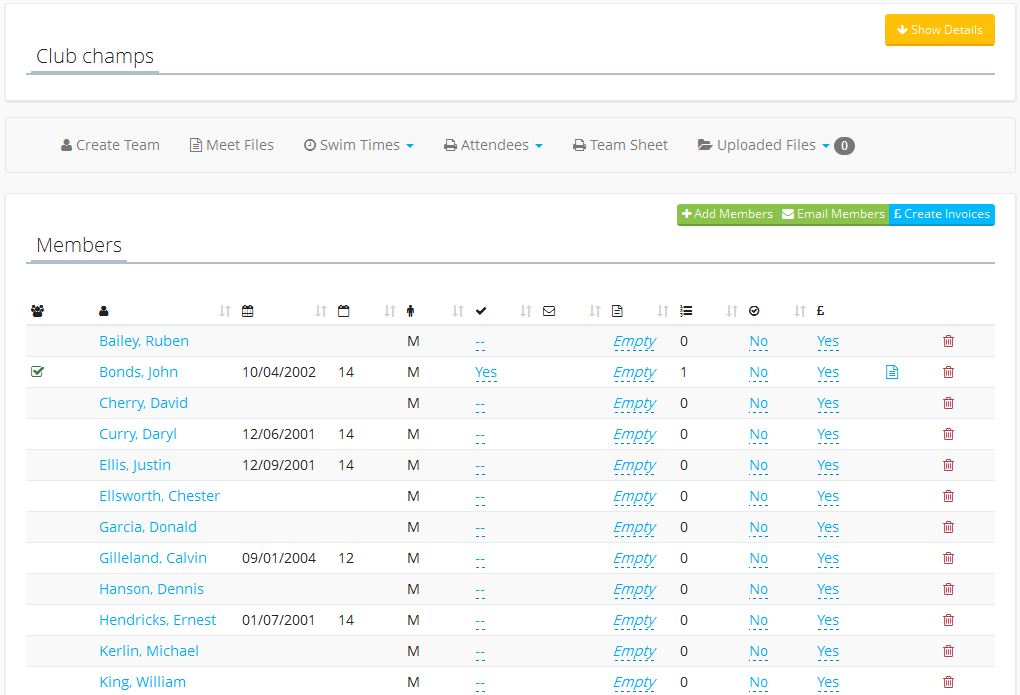 You can also add volunteers to an event and email them an invitation in the same way. They can click on a link in the email and say whether they can or can not volunteer for that event.


To add volunteers to an event you must assign a volunteer template to it. Then, when you click on the "Add Volunteers" button, the system will list your members that have the specific skills/qualifications you specified when adding the roles to the template.

You can add multiple members for each role if you wish. This way you can email multiple people at once asking them if they can volunteer etc.
Once you have built your team you can print the team sheet. After the event you can add your swim times.

If the event has any associated documents, add them here so your club members can view/download them.

When you view an event's page, the event details are hidden. Click on the "Show Details" button to view them.
When you have added swim times to the event, if you are on Option 1 with club website, you can display the results on a web page or news item.

To do this, edit the page or news item in question, click on the yellow icon on the far right of the editor and click on the club event title. A special code will be inserted into the editor. When your page or news item is rendered on your website, the code will be replaced with a table containing your event results.
Hy-Tek style meet
A Hy-Tek style meet is similar to a club event but has some extra functionality. You can add a Hy-Tek style meet in a couple of different ways:
1) The easiest way is to import the Hy-Tek meet file. The system will automatically create the meet and associated events.
2) If your club doesn't use the Hy-Tek system you can add a meet manually, then add each event manually.
A meet can be one of the following types:
Open Meet
An open meet allows you to email your members with a link so they can select which events they want to swim. The system only shows them the events they are eligible for.
Team Gala
When you send emails out for a team gala, the swimmer can only confirm their availability.
Club Champs
Club champs are like open meets where the swimmers can select which events they would like to swim.
Turn Up & Swim
For this meet type, the team is chosen on the night.
Once you have selected your team, you can create a meet entry file that can be sent back to the hosting club for them to import back into their Hy-Tek Meet Manager software.
You can also run the following reports against a meet:
Meet Eligibility - This exports an Excel file listing all of the meet events along with all of your swimmers that are eligible for each event

Meet Fees - This exports an Excel file listing all of the swimmers and the fees they are due to pay for the meet (if you charge for entry etc)

Emailing Swimmers
To email your swimmers regarding the meet, click on the "Send Emails" button.

You can select from the following:

Email all members in the team - use this to email everyone you have selected for the team

Select members - use this to select individual members to email

Select sessions - use this to email all members assigned to one or more sessions

Select email lists - use this to email all members on an email list

Depending on your meet type, a link will be automatically inserted in the email for the members to click on to select their events or confirm their availability.