Official Swim England results from each level 1, 2, 3 and 4 meets can be imported using Sport Systems Club Rankings software. This software connects directly to the Swim England database which is the same that is used by swimmingresults.org It is recommended the steps below are performed weekly at least three days after the last meet, typically, this means from Thursday onwards.

1) Show meets in Club Rankings

Club Rankings requires an Internet connection. Start the software then Select Meets from the top menu bar:

This pulls down all meets that swimmers registered to the Club has taken part in:


If needed, the meets displayed can be filtered using the options at the top.

2) Select the meet to export results

Select the meet where results need to be exported. Only one meet can be selected at a time. In the example above, the first meet is highlighted in blue.

3) Export the results

Select Export from the top menu bar:

Select SDIF from the drop down that appears: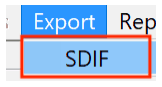 In the save dialogue box, select the directory you wish to save the SD3 file to. It is recommended the filename is amended to include the meet level (highlighted in red):

Click the Save button.

4) Import the results into SCM

In SwimClub Manager, go to "Members > Swim Times > Add Swim Times".

Select the previously saved SD3 file from Club Rankings, then click on the green Next button.


On the next dialogue, ensure the Licensed Event tick box is checked, select the license level and in the Notes field use the same name as used for the filename:

Then click on the blue Import Results button.

5) Problems

SCM will email a report of the import process including how many results were successful. Issues are typically associated with the swimmer's name not matching that registered on the Swim England database and/or the swimmer's Swim England number not being correctly defined in SCM. Both of these can be validated using the swimmingresults.org web site.

Another very common problem is that you need to set your "ASA Registration Code" on the club details page. This needs to match the code that is used in the results file.

Results files very often contain results from multiple clubs and the reg code is how SCM can tell which results are for your club.