embership renewal is broken down into 3 steps.

Step 1

To start your membership renewals process, go to "Members > Membership renewals" then click the "+ Start Renewal" button.


You need the "Send Emails" permission to be able to start the renewals process.

Select the member types you want to go through the renewal process (Swimmers, Parents or Volunteers).


Step 2

Enter the contents of the email that the members will receive.


Remember to enter the renewal link email tag in the email body somewhere. This will place a special "tag" in the email that the system will replace with a unique link for each member. When a member clicks on the link in the email, they will be taken to a special page detailing all of their personal information (see below).
Step 3

Click the send renewal emails button and all of the member types you selected in step 1 will receive the email you entered in step 2.

Monitoring Progress

To see who has renewed and who has not, go back to the "Members > Membership renewals" and click on the one you have just added.

You will see the email details and everyone who was sent the renewal email, along with their responses (if they have responded).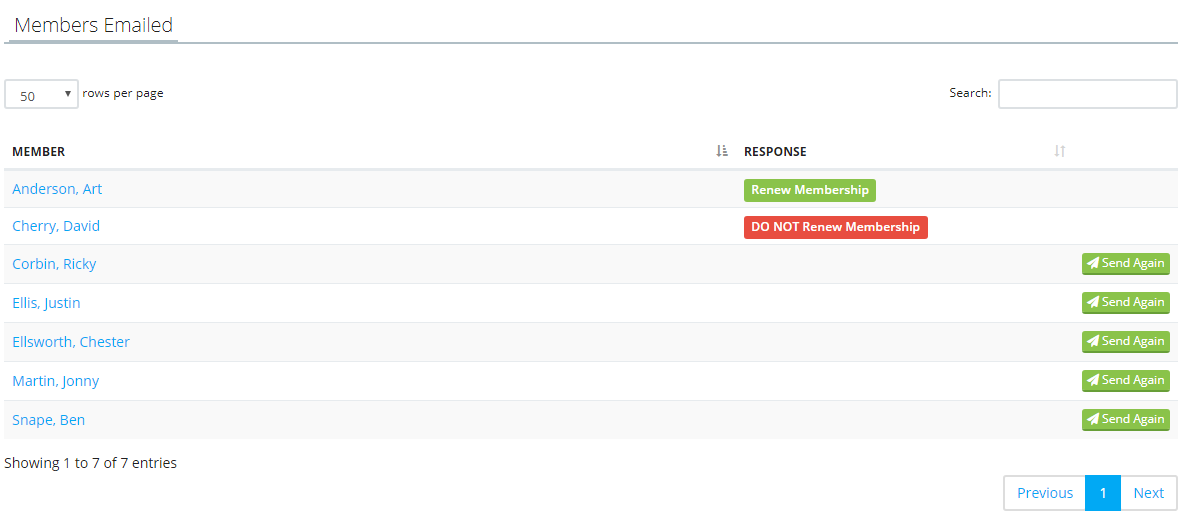 To send the renewal email again, click on the relevant "Send again" button for the member in question.

The Renewals Page

The page the members will see when they click on the link in the email is as below:


If a member clicks the "Do NOT Renew Membership" button, it will set that this member does not want to renew, and fire the workflow if you have set it up.